Saturday, June 6, 2015 from 9:00 AM to 3:00 PM
RSVP: Link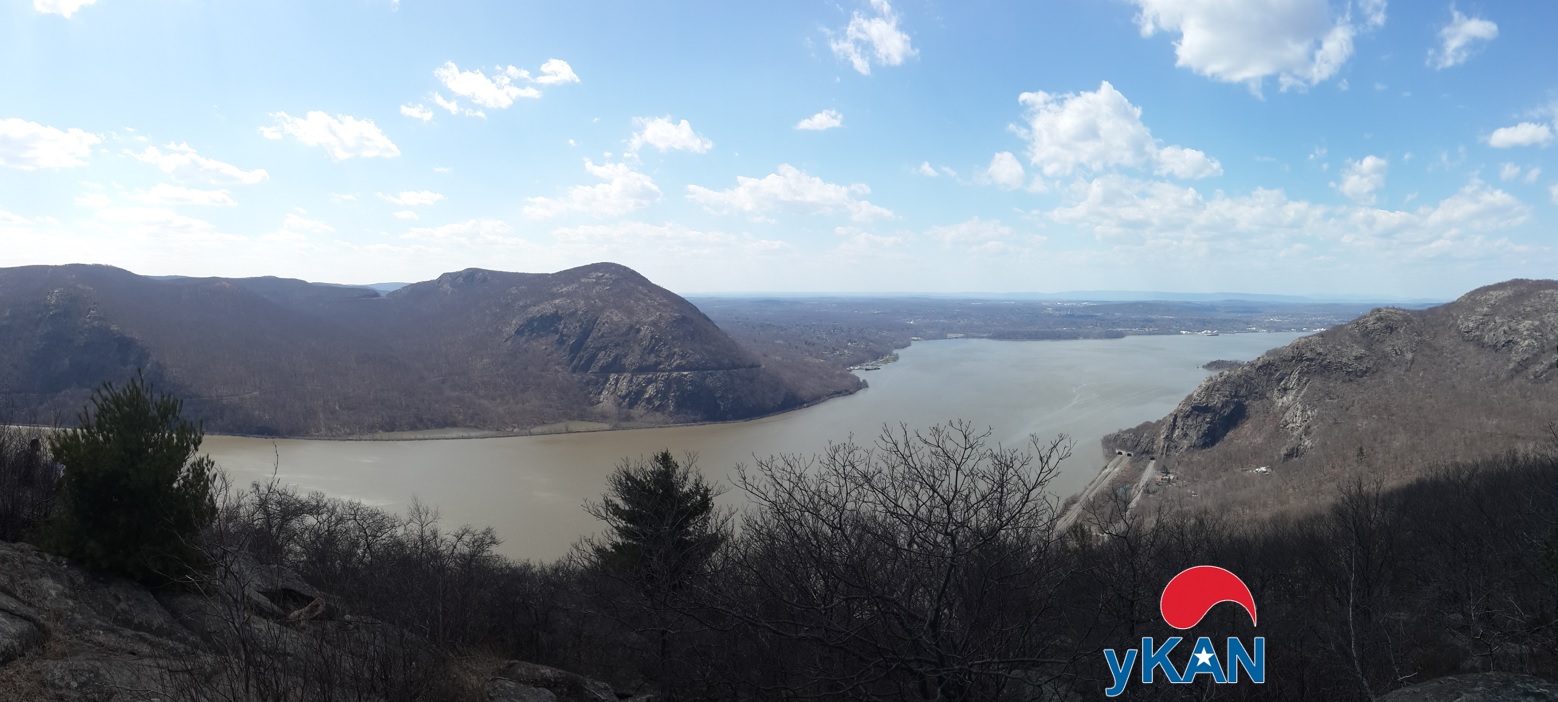 Spring is one of the best seasons to go hiking when trees and flowers are budding, leaves are all different shades of green, and hopefully by 1st weekend of June, the mountain laurels will dot the mountain with pink and white flowers.  To introduce yKAN members to one of the favorite outdoor Korean activities, we will be hiking Mt. Taurus.
Join yKAN on Sat. 6/6/15 for an invigorating hike with incredible views. The hike is ~4 miles, and will last ~4 hour depending on the group's speed, including lunch time.  After the hike, there is option to relax while enjoying the view from Little Stony Point Park beach, get some ice cream or ice pop, and/or grab drink/food at the quaint town of Cold Spring.  There will be a climb to get to the view spots (~1350 feet elevation gain) (it's worth the climb!!!) and we will hike at a leisurely pace with many rests/photo stops along the way.
What:
yKAN Hudson River Hiking Social
When:
Saturday, June 6, 2015
Train Meeting Time:  7:35 AM (Metro North train to Cold Spring departs at 7:43 am from Grand Central)Hike Meeting Time:  9:05 am (once the train arrives)
Where:
Train Meeting Location:
Grand Central Metro North Station
89 E 42nd St, New York, NY 10017
– meet at the central Atrium Info Booth with your one-way non-peak ticketHike Meeting Location:
Cold Spring Metro North Station (next to Cold Spring Depot Restaurant)
1 Depot Square, Cold Spring, NY 10516

Trail Head/Parking Location:
Little Stony Point Park
3011 NY-9D, Cold Spring, NY 10516

Cost:
All:
$10 (includes:  reserved spot on hike, "guided" hike, lunch)Carpool:
Passengers will give $14 for round-trip in cash to the driver (to cover for tolls, gas, thanks) (or $7 each way)

Train Ticket:
$14 per adult each way, non-peak Metro North ticket to Cold Spring.  Just purchase one-way ticket in case of possibility of carpool back to Manhattan (there's no discount for buying round-trip ticket and there is a ticket machine at Cold Spring train station).

RSVP:
Purchase your tickets online in EventBrite. Maximum capacity: 16 people
https://ykanhiketaurus2015.eventbrite.com
Rain Date:
In case of rain, the event will be canceled and refunds will be issued. Decision of a go/no-go for the event will be decided by Thursday 6/4/15.
Transportation:
We need drivers to coordinate carpools – drivers will be compensated $7/passenger for each way.  If there are not enough drivers, we will have the group meet at Grand Central train station to take the Metro North train up to the town of Cold Spring together and drivers will meet the entire group at the Cold Spring Metro North train station next to the Cold Spring Depot restaurant.  The hike will depart once the train passengers arrive at Cold Spring train station, so drivers should plan to arrive 10 minutes before the train arrival time.
If there is space for carpool, we will inform the passenger of where to meet the carpool.  To be considerate, we ask the passenger to arrive 10 minutes before the meeting time so that the entire car can drive up on time to arrive on time.  The carpool will depart exactly on time and no refund will be given if you miss your arranged carpool.
Public Transportation:
If carpool cannot be arranged for everyone, then people taking public transportation will meet at 7:35 AM at the Grand Central train station – next to the information booth in the center of the atrium.  Please make sure to have your one-way ticket to Cold Spring in hand when meeting the group.
We will take the 7:43 AM Metro North Train from Grand Central to Cold Spring.  The train should arrive at 9:05 AM.
Upon registration, details of carpool/transportation will be emailed to the registered participants during the week of the event.
What to Wear:
– loose clothes – dress in layers  (work-out clothes may be more comfortable than jeans)
– hiking boots or sneakers with good traction
– hat
– sunscreen
What to Bring:
Below is a list of suggested items to bring for your safety.  This is not a comprehensive list of all items you may need for all possible situations.  Hopefully you will not need it all but it never hurts to be prepared.
– 3 liters of water  (*** Required ***)
– sturdy backpack to carry the water and lunch (**** Required ***)
– toilet paper and trash bag (required)
– hand wipe/sanitize (optional)
– (Korean) snacks for yourself and to share (optional)
– hiking pole (optional)
– headlamp/flashlight (optional)
– wind breaker (optional)
– compass (optional)
– camera (optional)
– swimming clothes & towel (optional – if you want to go for a swim at Little Stony Point Park after the hike)
– bandaid/first-aid kit/ankle/knee brace (optional)
– bug spray (optional)
– sunglasses (optional)
– poncho (optional) (in case of unexpected rain)
– whistle (optional)
– ice cold watermelon (optional) 😉
You can also check out the following link for a more comprehensive list of items needed for a day hike:
http://www.rei.com/learn/expert-advice/day-hiking-checklist.html
Disclaimer:
Hiking is inherently risky and may result in death or serious physical or emotional injury.
Join this hike only at your own risk. The hike organizer and those connected to yKAN may not be held responsible for the safety or well-being of anyone who chooses to join the event. By signing up, you agree to research the trip, and send the organizer or others questions as necessary. On the trail, we all care for each other as friends, not as guides or leaders or agents – if you sign up to come, you agree to take primary responsibility for yourself. By signing up you agree not to hold anyone responsible if something goes wrong for any reason.
There will be no refunds if you miss your train, carpool, or hike start.
About Mt. Taurus:
Mount Taurus, also known as Bull Hill, "is a mountain north of the village of Cold Spring on the Hudson River in Putnam County in the State of New York. It is part of the river-straddling range known as the Hudson Highlands. The original name came after a bull that used to terrorize the mountain was chased by indignant inhabitants. A hunting party drove the bull over the hill. In an attempt to flee the mountaineers, the bull plunged out into space and fell down. Its broken and shapeless mass on the rocks was memorialized in the name of the mountain the bull used to haunt." (from http://en.wikipedia.org/wiki/Bull_Hill )
We will be hiking past the Mount Taurus Quarry that was active from 1931 – 1967 under Hudson River Stone Corporation before becoming a part of the Hudson Highlands State Park in 1970.  The quarry is known for hard gneiss and is known to have 11 minerals (Amphibole Supergroup, 'Biotite', Calcite, Epidote, 'Feldspar Group', fluorite, 'Garnet', Molybdenite, Pyrite, Quartz, Zircon). (from http://www.mindat.org/loc-108000.html and "Rockhounding New York: A Guide to the State's Best Rockhoundding Sites" by Robert Beard)
About the Mt. Taurus Hike:
Below is the link to the hike trail map:
http://2.bp.blogspot.com/_3XfL3X8_6bs/TJ1QbhQrmAI/AAAAAAAADx4/Hw8pffE_neU/s1600/Mount+Taurus.jpg